Summary
Bosses that affect the overworld to push heroic players to slay them to save their town.
Core concept
Boss monsters are a staple of gaming. VR is a chance to make gaming way more personal. An opportunity that Alta has grasped firmly and is riding to great success. Boss monsters should be just as personal as other aspects of the game. They aren't a raid we do for loot for a build. They're beasts that threaten to poison our water supply, burn our crops and deliver a plague onto our houses!
Personal twist
Below are some monster ideas and a general idea of what I mean when I say to make bosses more personal a threat and something the townies need to do FOR THE TOWN instead of just to get those cool Devout Shoulders for Leroy.
Putripalus

Periodically the water of the town will grow moldy and full of rot making it impossible to produce food, soups, and potions without poisoning the townies. Deep in the aquifer connected to the well lies the poison core of the gelatinous beast Putripalus, a 3 headed slimy dog-like creature made entirely of decay and stagnant water! His rot permeates throughout the town killing crops and poisoning the water supply!
Slaying Putripalus drops his core which melts into the ground for a good period, freeing the water and purifying the land.
Superatera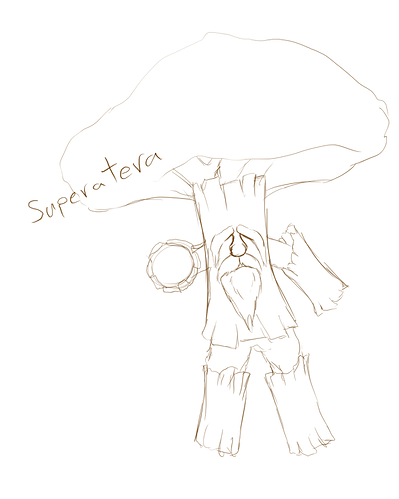 The trees grow strong and uncuttable, gotera flood the edges of the forest, making it dangerous to enter the woods. A dense fog fills the air, allowing the Gotera to leave their woods and assault the town! Superatera leads his army!
Similar to the smaller Gotera Superatera is a much larger tree-like entity with two trunks for arms capable of rapid-firing the seeds Gotera use. The long branches of Superatera release the bomb seeds Gotera fill the air with, making it dangerous to be in melee range of Supertera. Superatera has a special ability, however, where he can overclock both arms and let out a salvo of hard-hitting seeds at the townies fighting him. Upon dying he falls to the soil, planting himself to bide his time for his next assault.
Gelaura

A cold wind fills the air, the water frozen, the crops won't grow, and the air stings the skin. Snow lightly falls… and falls… and falls… endlessly! It's too cold for fire and ice blocks the mines! Gelaura threatens to bring a new ice age to the townies!
Fighting Gelaura takes skill and speed, spending too long will result in being killed by his icy gales! Gelaura can also force the ice from the ground upwards like spikes requiring the heroic townies fighting him to move swiftly and keep moving or be encased in ice. Upon defeat Gelaura falls, the howling stone that makes his body emanating the slow hum of the winds once more, letting the ice melt and fires burn once again.